International Exchange Program
International Exchange Program

Study at Seisen University (Exchange Program)
Students at the partner institutions can study at Seisen for six months (one semester) or for a year (two semesters) as exchange students or visiting students. Seisen offers tuition and fee waiver benefits for exchange students for some of the partner institutions. Applicants for admission as exchange students or visitng students are required to have a basic level of Japanese proficiency.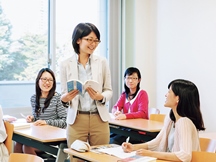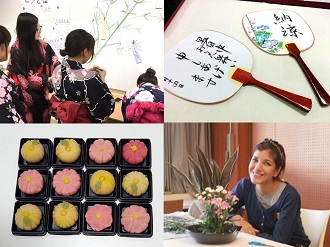 The students are assigned an academic advisor from the department in which they enroll; however they have the liberty of selecting classes across different departments, following their interdisciplinary study plan. Each student is also assigned a Japanese student as a buddy who can help with things in everyday life as well as with classes. Transcripts will be issued to the exchange students after the completion of their studies.
Scholarship
Seisen Reisen-Kai Scholarship
Upon recommendation by a partner university or college, Seisen Reisen-Kai Scholarship is offered to one exchange student (undergraduate) per partner institution. The amount is ¥40,000 or ¥20,000 per month, and can be offered for up to 10 months.
---
【Welcome to Seisen!(In Japanese with English subtitles )】(4'37")
Video made by Seisen students. Please see and feel our friendly atmosphere!
Application for the Exchange Program
Please go to the following page and check under "Exchange Students" for details.
Our Study Abroad Experiences at Seisen University
【Testimonials from Taiwanese students(In Japanese with English subtitles)】 (2'20")
Listen to what former exchange students from Taiwan have to say about Seisen!
---
My name is Donnaya from Assumption University, Thailand. I started my exchange program in fall semester 2014-2015.

It was such a good experience ever studying at Seisen University, I got a lot of friends (Japanese / Taiwanese / Thai), teachers are also kind to me, when I couldn't understand the lessons, they tried to explain to me slowly which could help me a lot.

Of course, there was some hard time living in Japan alone but when time got past, I could get used to with it. Once I understood their culture / lifestyle, I found out that I could stay happy without troublesome.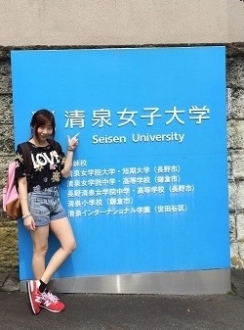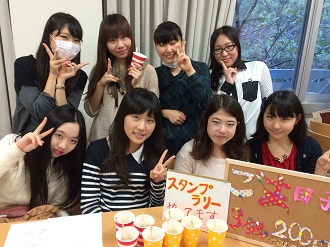 Apart of study, I also joined the SISA club where I can made Japanese friends, sometimes we had lunch together or took a short trip around Tokyo.A good thing is we still keep in touch to each others.

After I came back to Thailand, I finished my last semester and graduated in December 2015. In April 2016 until present I came back to Japan again. This time I came for work. I work as a translator and general affair staff in sales department for KCC company known as LeTao, a well known cheesecake shop in Hokkaido.
---
처음에 세이센 여자대학교에 왔을 때, 걱정이 많았습니다. 한국인도 혼자 밖에 없어 학교생활을 잘 할 수 있을까 고민도 많이 했습니다. 하지만 세이센 여자 대학교의 교수님, 직원 분들, 학생들 모두가 친절하게 일본 생활을 도와주셨습니다. 특히 한국인이 혼자 밖에 없어 일본어도 금방 많이 늘었고, 이제는 무리 없이 일본어로 기본적인 의사소통은 물론 조금 어려운 전공 수업의 내용까지 이해할 수 있게 되었습니다.

소규모의 학교인 만큼 항상 교직원과 학생 간의 커뮤니케이션이 활발하고, 한국 대학교에서는 많이 볼 수 없는 세미나 수업의 형식도 공부를 하는데 정말 많은 도움이 되었고, 특별한 경험이 되었다고 생각합니다.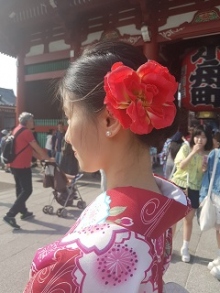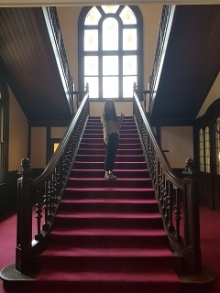 또한 유학생을 대상으로 체험활동도 학교에서 진행하고 있습니다. 최근에 저는 교환학생 친구들과 세이센 일본인 학생들과 아사쿠사에 다녀왔습니다. 아사쿠사에서 기모노 체험도 하고, 일본 전통 음식은 'どぜう(도조우)'도 먹었습니다. 그리고 작년에는 가마쿠라의 '평화의 종' 행사에도 참여하여 다른 학교의 유학생들과도 교류를 하였고, 저에게는 정말 특별한 경험이었습니다.

저는 단 한번도 세이센 여자대학교에 간 것을 후회한 적이 없습니다. 저한테 1년동안 너무 값진 경험이었고, 인생의 큰 교훈을 얻었다고 생각합니다. 혹시 세이센 여자 대학교에 올 수 있는 기회가 있다면 망설이지 마시고 꼭 오시기를 바랍니다.